---

How much and how many people can your jelly cake serve?
Please refer to the serving guide below for your rough estimation. It shows the approximation of price, weight and serving. The actual serving may vary depending on how the cake is cut.



What are the main ingredients of your jelly cake?
Our ingredients are diary-free which is a perfect choice for milk-allergic consumers. Our jelly cake is largely made of high quality imported green seaweed (Rumput Rampai Laut) which has high composition of fibre and low cholesterol, and fresh coconut milk (Santan) with pure pandan leaves, without any artificial flavoring.

Is the jelly cake safe for consumption, especially for kids, as it seems very colorful?
Yes, food safety is our top priority. Our jelly cakes are using food color made from vegetables and plant extracts which are certified, regulated and approved by FDA (Food & Drugs Administration) of U.S.A for safe food consumption.

How many days can the jelly cake last?
As our jelly cakes are preservative-free and highly perishable, we always recommend our customer to consume on the same day for best quality. However, with appropriate refrigeration, our jelly cakes can last up to 3 days including the collection day.

How should i keep the jelly cake?
The jelly cake should be kept in refrigeration below 5oC at all times. If situation does not permit, it can last for approximately 4 to 6 hours under air-conditioned environment. Remember, never ever put the jelly cake under sunlight or heating compartment such as car boot.

Can I carry the jelly cake for my long distance travel?
Yes you can, as long as the jelly cake is well kept under air-conditioned temperature and avoid direct hot sun.

Is your jelly cake consumable by vegetarian or someone allergic to eggs?
Yes, our jelly cakes are completely egg-free and animal-product free! The ingredients and flavors are all extracted from natural plants, seaweed & vegetables. In fact, our jelly cakes are of vegetarian's favourite!

Is your jelly cake HALAL? Is the cake dairy-free
All ingredients are halal ingredients and animal-free. The main ingredients are santan (coconut milk), pandan, sugar, water, and seaweed powder (Rumput Rampai Laut) and DOES NOT contain Gelatin. Our Jelly cakes are dairy-free and DOES NOT contain ANY milk, cheese, butter, or cream, unless otherwise stated.

Will jelly cake get watery?
Yes, since 90% of the cake is made of water, it may get watery depends on the temperature, but it will not melt. Due to healthy reason, we DO NOT put any chemical substance like cake stabiliser or emulsifier to make the cake dry and firm.
About Ordering, Collection & Payment


Do you provide delivery service with charges?
The delivery services is available daily (except Public Holiday) from 10am-6pm by our logistic partner (Lalamove) with delivery fees charged based on distance.

Can I self collect my cake?
We also provide drive thru pickup at EkoCheras Mall Starbucks Entrance by appointment only (10am-6pm) but with prior arrangement. Our staff is available to meet only by call appointment.

Can i customize the cake design?
Yes, minor customization such as change of color is allowed. Please clearly state the changes required in the "Remark" section of the ordering form. However, customization is subject to additional charges depending on the level of customization.

How many days do i need to order in advance?
Minimum 3 days in advance for non-peak season. 6 days in advance for peak seasons such as Hari Raya, Chinese New Year, Christmas, Lantern Festival, Teachers Day, Children's Day, Mother's Day, Father's Day, Valentine's Day. The system will automatically block if the orders exceed our capacity.
Can i still place order in less then 24 hours?
For urgent cake request, you may consider our daily ready-made jelly cake, which can be ordered from our 'Today's Special' online catalog while stock last.

Can i still make changes to my orders after submission?
Yes with condition that not less than 2 days before delivery/collection date. Please whatsapp to customer service +6010-9297479 quoting your order reference number.

How to know whether my order is confirmed?
Upon order submission online, you will received email notification with order & payment status

Can i buy ready-made Jelly Cakes?
Yes, we have varieties of ready-made jelly cake made fresh daily based on first-come-first-serve basis. You would need to order online at www.jellycake2u.com under "Today's Ready Made' category

How do i collect my cake?
Based on your collection day and time, please call customer service +6010-9297479 before arriving at our Delivery Center and present the order reference number to the staff to claim your cake.

How do i make payment?
We DO NOT accept cash payment. All payment must be made via TnG QR or Duitnow QR or online bank transfer to OCBC Bank A/C: 790 111 7134. Please whatsapp +6010-9297479 the bank-in slip as proof of payment.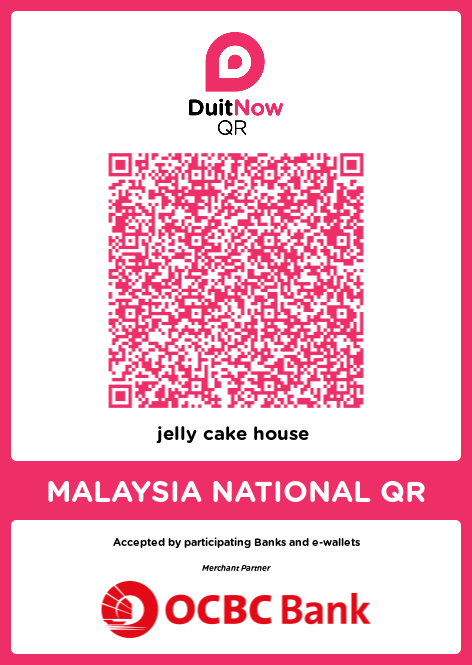 What if I want to cancel my order?
Our business policy is based on 'No Refund', 'No Return' and 'No Cancellation' policy.